'Rocketman' Greg May Makes His Film Debut
22 May 2019
Year 12 BMS student, Greg May, made his on-screen debut this week as 'Rocketman', the epic musical fantasy about the uncensored human story of Sir Elton John's breakthrough years, opened in cinemas. He appears as the 14 year-old Elton's hand double as he auditions for the Royal Academy of Music.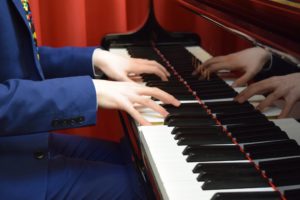 Greg was approached to audition through the Junior Royal Academy of Music, where he is currently a student. He sent off his body measurements, complete with a photo of his hands and a video of him playing the extract of music needed, Mozart's Turkish March. They replied soon after, asking him to go to Pinewood Studios two days later to film.
Greg said: "The day was very long but interesting, as I got to see them shooting some last minute scenes. Trying to fit into the costume of the 14 year-old actor I was doubling was quite a challenge, but the costume designer worked her magic, as did the make-up artist who dealt with my hands. I was very well treated all day and it was an amazing experience."
Alongside his A-Levels Greg is currently studying for his Diploma in Piano, which he hopes to sit over the summer, and he plans to study music at university in the future.