International Representatives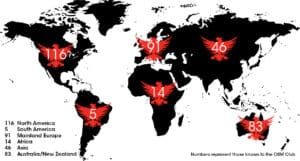 If you are travelling overseas or perhaps live abroad, please contact the relevant representative listed below. They are happy to offer travelling advice, make introductions and more.
France
James Sturt-Scobie (1973-80)
James can also be contacted for anyone visiting Switzerland as he lives near the border. His nearest significant metropolis is Geneva.
Lawrence King (1967-77)
After 10 years at BMS, Lawrence went on to work at Rothamsted Experimental Station before pursuing further studies to become an agronomist. He then moved into the thorny subject of pesticide legislation working for the government. In 1990, Lawrence joined the French company Rhone Poulenc and that is how he eventually arrived in France, in Lyon (Auvergne Rhone Alpes) in 1998. Lawrence has recently taken early retirement and has three children. Lawrence writes: 'I'm looking forward to hopefully meeting some OBMs sometime and if you are ever visiting our neck of the woods feel free to drop by for a cuppa! PS: At school I wasn't very good at French and Mr Potter was not surprised I got 'U' in my 'O'level!'
Jules Tilstone (1981-89)
Germany
Claudio Riccio (1987-92)
Claudio moved to Cologne in 2002, and works at the Cologne International School. Claudio writes: 'I would be very happy to welcome anybody from the BMS community planning on coming this way, for a chat and a cuppa, or as Chris Perry says, for a stiff G&T and Pimms!''
Spain
Michael Harvey (1961-67)
Michael  moved to Javea on the Costa Blanca when he retired from full-time work ten years ago and has lived there permanently for much of that time. He spends more time back in the UK now that his grandchildren are all getting older but still spends at least six months a year there as he enjoy the life in the sun so much! Michael writes: 'I would be happy to hear from any OBM's in the area either to help or just share experiences!'
Austria
Ignacio Beltran (1996-98) 
New Zealand
Malcolm Billington (1973-76) – Auckland 
Richard Dunbar (1960-70) – Auckland 
Tom Mawle (1991-98) – Canterbury
Neil Brown (1973-83) – Peninsula
Matt Shepherd (2010-15) – Opoho
Australia
John Powell (1964-69) – Victoria 
Barry Antell (1954-58) – New South Wales
Chris Cook (1954-61) – Sydney
Chris was a boarder in Shakespeare House from September 1954 until the end of the winter term in 1961, he went to Middlesex Polytechnic in Hendon studying hospitality management, undertook a traineeship with Grand Metropolitan Hotels . Held Management positions in the same group including a period in Belfast returning to the Mayfair Hotel. Migrated to Sydney, Australia in 1974, worked with the Hyatt and Sheraton hotel groups. And now in local government in Northern Sydney. Chris hopes to be able to make contact with other OBMs not only in NSW but Australia wide.
Fraser Turvey (1988-93) – Sydney
Will Errington (1979-82) – Sydney
David Bedingfeld (1958-68) – Queensland 
USA
Tim Blofeld (1966-76) – California
Tim moved to Los Angeles in 1992 with a London based logistics company, specializing in media, pharma and bio-tech, then opened the San Francisco office in 1997. He has three children, the youngest of which just started college. Current interests include aviation, sustainability, real estate and mountain biking. He enjoys showing visitors the local sights, wineries, coastline, hiking and biking trails, occasionally from a birds eye view, and is happy to help with business introductions when able. Tim is still friends with several OBMs from the 70's. His brother Nick was Head Boy in 1981.
Ellis Bell (1958-67) – California
Ellis (John in those days) moved to the United States shortly after finishing his D Phil at Oxford in 1974. He remains active in Biochemistry and Molecular Biology research and education, and since 2015 is based in San Diego where he and his wife Jessica (also a Biochemist) are both on the Faculty of the University of San Diego. They have two adult children, Samuel in Washington DC and Isaac in New Haven. While he remains active in research and teaching, developing national networks of faculty and students and is connected with Biotechnology and various professional societies, Ellis enjoys golf, photography, cooking and wine. He would be pleased to hear from OBMs or current students living in or traveling to the US and Southern California in particular.
Colin Hull (1953-61) – California 
David Dubov (1975-80) – Maryland
Matthew Stares (1988-93) – Michigan
Peter Habicht (1952-59) – Massachusetts, New England

South Africa
Brian Askew (1954-63)
Brian was at BMS during the reign of 'JET' Taylor and left school to go to Churchill College, Cambridge. In 1969 he emigrated to Toronto spending time there with IBM and Amdahl. The latter company transferred him to Johannesburg in 1984, where he subsequently started an IT company named Syntactica. He is married to Anne and has four children. Currently semi-retired, he would be pleased to hear from any OBMs in South Africa.
Malaysia
David Barleggs (1973-80)
Japan
David Cooper (1992-2000)
David has been in Japan for 16 years and is the Principal of a Japanese Private School in Hiroshima. The School has an English immersion programme in the Junior High School and offers the IB Diploma in English, alongside the Japanese curriculum in Senior high School.
Korea
James Fretwell (2009-11)
James is a journalist writing about North Korea and has been living in Seoul since 2015. He is happy to help out any OBMs thinking about coming to South Korea for work, study, or travel. James will even let you know where to get the best Korean BBQ!