Kenyan Adventure for Hill Scholarship Winners
27 March 2020
Year 12 students Amar Parmar and Jules Caresmel have been named as this year's recipients of the Hill Family Scholarship. They impressed the judging panel with their proposal to work with the Sure Foundation as part of the Utange Orphan's project and the Celebration High School project in Mombasa, Kenya.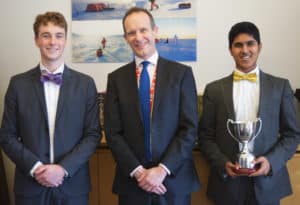 The Scholarship, provided by OBM Adam Hill (1993-98) and his family, is awarded on an annual basis to a Bedford Modern School student who commits to taking a degree in medicine or in the medical sciences. Professor Adam Hill is a dual qualified clinician and mechanical engineer and recently featured in a Times magazine article about his ground-breaking work as CEO of immuno-diagnostics company Oncimmune. The purpose of the Scholarship is to fund, or part-fund, the successful candidate for a challenge, preferably in another country, which improves the health of children in disadvantaged parts of the world.
A member of this year's judging panel, Hema Lakhani, commented: "The proposal submitted by Amar and Jules was such a fascinating read. It was clear they had spent many hours researching their plans and have been liaising regularly with the charity coordinators. I know this will be a life-changing experience for both boys; they will make some amazing memories, but more importantly they will be helping those less fortunate whilst there."
Amar and Jules will each receive £1,000 to fund their trip to Kenya in the summer of 2021.